At Bliss Float Brisbane our vision is to help cultivate an experience each time you come to float with us that leaves your whole being feeling clearer, more vibrant and free of tension and discomfort.
We have consciously crafted an environment that is both serene and luxurious and one where you will feel welcome and supported to let go and surrender as you are cocooned within an undisturbed space, enabling you to unwind, rest deeply and reconnect to the innermost parts of yourself.
As all forces of gravity on both your musculoskeletal and nervous system are removed by the bouyancy of the float,and sensory input in eliminated, your whole mind, body system can restore and realign.
Our Float Pods
Enter a private oasis of Bliss.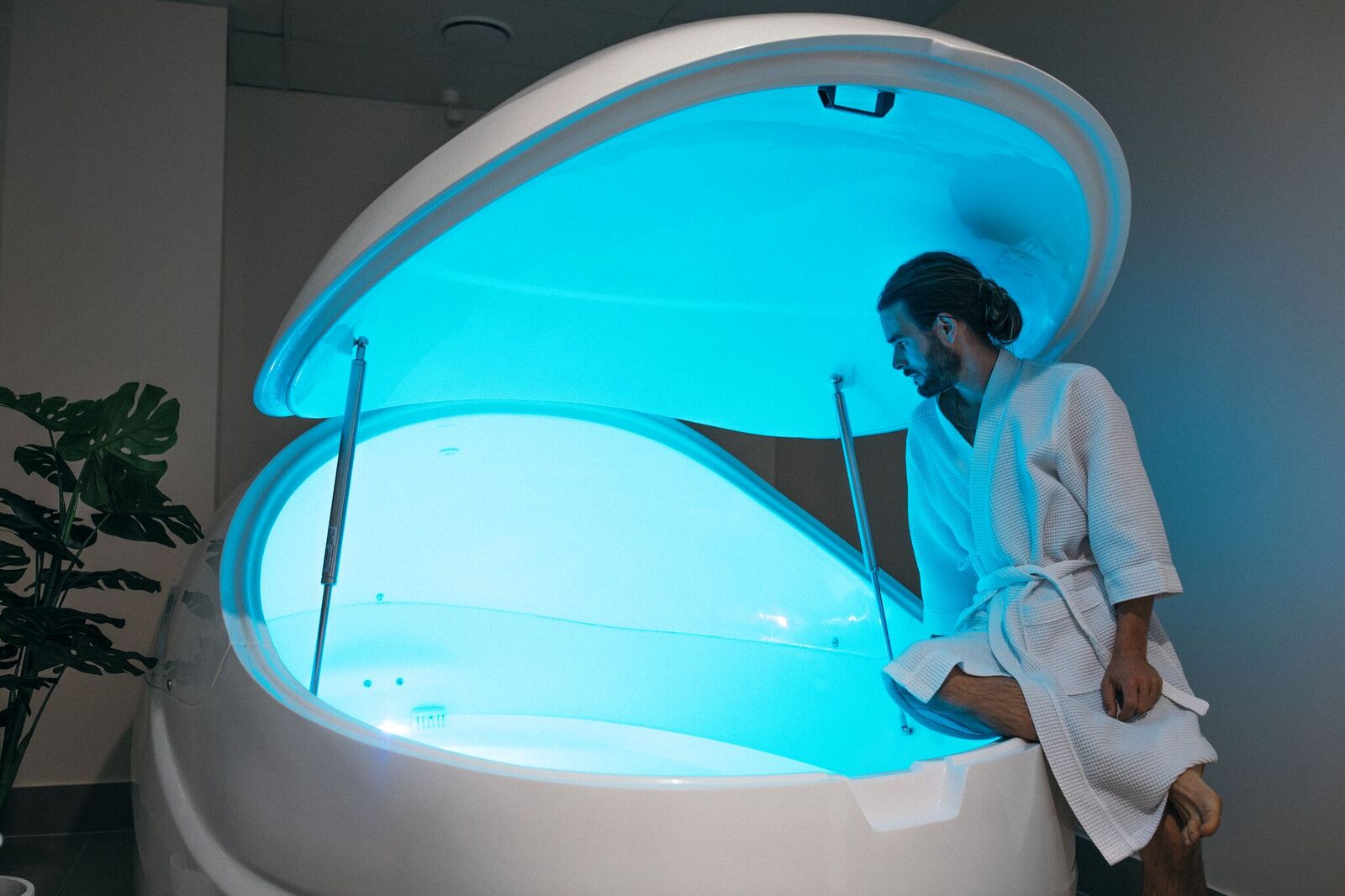 We have three premium and spacious Dreampods, offering one of the most advanced and spacious isolation pods on the market today.
Floating (also known as sensory deprivation) is a practice where you step into an enclosed float pod or tank, filled with over 550kgs of quality Epsom salts dissolved into 30cm of clean and filtered water. The water is warmed to the temperature of your skin so that as you settle into your float, the sensations of the water against your skin will begin to dissolve and you lose track of where your body ends and the water begins. The pod is light-proof and sound proof.
As gravity melts away and your senses fade, you begin to let go more and more, expanding into the vastness of space.
This environment fosters a unique experience of total weightlessness, complete calm and your deepest rest.
Floating has a plethora of benefits for health, personal development, spirituality and wellbeing
At Bliss Float we have two V2 Dreampods as well as one extra spacious Dreampod Max suitable for athletes or people with mobility considerations.
The Dreampod Max is a Brisbane first!
Our intention is that from the moment you step into Bliss Float you feel a sense of ease and relaxation wash over you. Give yourself enough time to arrive, meet our friendly team member and get set up for a premium float experience.
What to expect at Bliss Float?
+ Prepare
If new to Bliss Float please arrive 10 - 15mins before your scheduled appointment.
Ideally, you have not eaten a large meal, nor consumed any caffeine prior to your float.
As we supply everything you'll need, your only requirement is to bring yourself and an open mind.
Upon arrival you will be shown to your own private float suite, equipped with a shower and state of the art flotation pod.
You'll be personally guided you though the float experience from start to finish so that you feel comfortable and confident in taking this space for you and getting the most out of your float.
Once set up in your room, enjoy a brief pre-float shower to wash off any make up or hair and body products. Please ensure you have removed any contact lenses and taken off any jewellery.
After your shower, insert the earplugs provided and step slowly into the float pod,
+ Float Ritual
Once inside the pod, lower the lid, lay back into the water and let go - it's that easy! The water will hold you bouyant.
If you prefer you can choose to leave the pod lid up a little.
If closed, a light touch against the pod lid will easily press it open at any time, if needed. You are in complete control.
For the first 10 minutes of your float, gentle music will play to help lull you into a space of rest and relaxation.
Additionally you can choose from one of our in pod guided meditations, specifially customised to take you deeper into your float experience.
Lights inside the pods can stay on for the duration of the float or, if comfortable, switch them off to fully immerse yourself in the sensory deprivation experience.
Your first float can be the most challenging one, as it is an entirely new experience to acquaint yourself with.
Do your best to go with it, let go, listen to your breath and enjoy this sacred time and space just for you.
Gentle music will resume for the last 5 minutes to let you know it is near the end of your float.
+ Float Bliss
After your float, enjoy a warm shower using our organic hair and body products and cosy Egyptian cotton towels
Once you've left your pod suite, feel free to use our hair drying station with complimentary organic hair products.
Wander into our post float Bliss lounge, enjoy organic herbal tea and filtered water.
Take your time to enjoy this space to integrate your float, contemplate, journal, read or simply bask in post float bliss.
Your lighter, freer and more vivid presence will continue to flourish and the benefits of your float will lasts for days to come
If you loved your experience, we'd love to hear it..Share it with us, share with a friend, share with the world.